Outdated Gossip about Sing Jai
Pre 2001 gossip and news. All culled from witnesses or the HK tabloids.

From Sanney http://www.geocities.com/hkentrev/ for June 12
Early pictures from Saturday night's party, thrown by Carina Lau Ka-Ling, to celebrate Tony Leung Chiu-Wai's win at Cannes: Leung and Lau (left); Rosamund Kwan Chi-Lam (centre). Others seen at the party were: Faye Wong, Nicolas Tse Ting-Feng, Stephen Chiau Sing-Chi, Christy Chung Lai-Tai, Gong Li, and Brigitte Lin Ching-Ha among others.

May 1, 2000
One of Stephen Chiau Sing-Chi's rumoured girlfriends Yu Man-Fung has apparently been charged with a traffic offense and is scheduled to appear in court today.

April 5, 2000
From Neve, who translated from Apple Daily, The Sun and Sina.com

Chiau always wants to go to Hollywood. The 21st Century Fox bought the copyright of "God of Cookery" last year, Chiau will be the director and Jim Carrey will be the leading actor. But Jim Carrey wasn't free at that time, this project stopped.

Yesterday the newspaper heard that "God of Cookery" Hollywood version will be shot next summer, the leading actor is still Jim Carrey, the director will be changed, and the superviser will be John Davis.

Not only Jim Carrey is interested in this story, but the more important reason is he confides in John Davis. It was heard that Jim Carrey doesn't trust Chiau, so he asked to use an American director. After Jim Carrey finishing two films, "God of Cookery" Hollywood version will start to work.

Chiau told to the reporter: "I only know Jim Carrey promised to be the leading actor, but I don't know other details of that film now."

And director Lee, Lik-chi said: "We don't care if they ask us to direct this film, we still have work to do without Hollywood. When Chiau and I worked in "God of Cookery", we never thought about Hollywood would like this story. You should ask Chiau about the details of that film."

March 14, 2000 Oriental Daily reported Stephen Chow will appear in an Italian film festival.
They choose five of Chow old films to present:
"Fight Back to School"
"Juctice, My Foot"
"Chinese Odyssey"
"Forbidden City Cop"
"King of Comedy "
Besides, the festival also presents a few 1999 HK movies such as "Running Out of Time", "The Mission" and "Purple Storm".

March 02, 2000
Stephen Chiau Sing-Chi (left) and director sidekick Lee Lik-Chi (centre) attended a children's charity event yesterday. Chiau, who did not shoot a Lunar New Year movie this year, completely dodged the question when asked which Lunar New Year movie he liked this year. Chiau: "Recently, the two movies that left the deepest impression in my mind were THE MISSION and BULLETS OVER SUMMER. I missed seeing these two movies and finally got around to seeing them during the holidays."
He reiterated that he plans to use mostly new talent in his next movie SIU LAM JUK KAU SIU CHI (lit. SHAOLIN SOCCER KIDS). He hopes to begin shooting in May and have it ready for the summer movie season.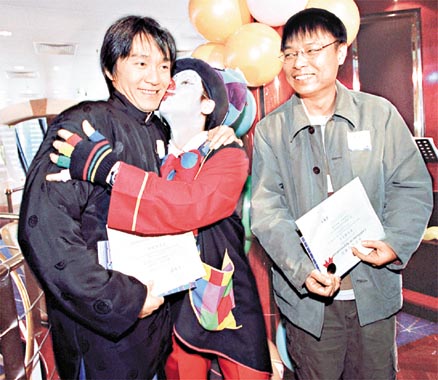 Feb 27th - Helping hand from HK's comedy king
-from Straits Times

LIFE is not always a laugh a minute as shown in Stephen Chow's movies and he knows that fact well.

When the King of Comedy, 37, found out recently that an 11-year-old boy was stricken with leukaemia, but did not have enough money to seek treatment, he did not hesitate in parting with over HK$90,000 (S$20,000) to help.

As early as last November, Hongkong's Apple Daily publicised Jiahui's plight as a leukaemia patient.

The newspaper had even persuaded television celebrities such as Gallen Lo, Ada Choi and Maggie Siu to be tested for a bone marrow match, as well as encouraged the people of Hongkong to come forward.

Recently, a match was found in America, but the cost of HK$190,000 was too prohibitive for the family. The newspaper managed to raise only HK$100,000 and so Chow stepped in to make up the remainder.

He said of Jiahui: "From the last time I saw him, I don't know why I felt like the two of us are fated. That's why I hope to take him out for a meal and give him the cheque personally."

Gun Hei Fat Choi


Feb. 08,2000
Stephen's New Year Picture

Feb. 05, 2000
Stephen writes "dragon" for the New Year! From the-sun in Hong Kong.
The same article in English

Jan 24, 2000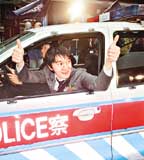 Stephen in a police car during a charity road race event! (From Fluff in color) Click for the larger version.
Jan 17, 2000
Director Lee Lik Chi writes a book about jokes. Stephen Chiau and Sandra Ng help him to promote it.
http://us01.www.appledaily.com.hk/page/pointer/20000117/entb502.htm
Jan 11, 2000
www.coolala.com reports that the top 10 grossing films in HK in 1999 were:
1. King of Comedy 29,848,860 (total gros, HK$)
2. GORGEOUS 27,547,639 - Stephen had a cameo in this one!
3. A Man Called Hero 23,368,902
4. Tricky Master 19,141,640
looks like whatever he's in is still gold in HK!
Jan 10, 2000 (from Neve in Taiwan)
There is a news in Taiwan's newspaper.
It says: Chiau's new movie names "Soccer Boy in Shaolin"(I guess :p), a Japan actress and a China actress (maybe Zhou Wei) will work with him. Cecilia will participate in it too, and he will find a new actress in HK or Taiwan.
His new movie will be shot in Apr.
(the Bruce Lee model was given to him by his Taiwanese fans!)
Jan 10, 2000
Stephen attended a charity function for Taiwanese earthquake victims. The reporter asked him about his interest in the internet and about what he was doing for new years. He replied that he would be in the audience for new years this year and that he was very interested in the internet, not only as it applied to entertainment.
http://www.singtao.com/news/09/0109fo01.html
Dec 31,1999
According to today's Orientaldaily, there are 4 Chiau's movies in the top 10 HK movies box office.
They are:
No.4 Justice, My Foot!
No.5 All's Well, End's Well.
No.8 Fight Back to School.
No.10 All for the Winner.
Dec 31,1999
Today's Applydaily.......
Chiau and Lee Likchi are planning to set up a website for artists, just like "Star East" or "HongKong.com".
Nov 1999, - JACKIE CHAN TO TEAM WITH STEPHEN CHIAU.
Superstar Jackie Chan plans to join forces with Canto comic Stephen Chiau Sing-chi for a future film. The pair last joined forces when each played a cameo role in the others 1999 Chinese New Year movie, with Chiau appearing in 'Gorgeous' and Chan in Chiau's 'King Of Comedy'. Speaking at the premiere of the film 'Purple Storm', Chan revealed that Media Asia, with whom he co-produced the movie, would make ten films in the coming year, of which he would be producing several.
http://www.hkmdb.com/hkentreview/1999/news/october/1008to1009/1009.html- Fluff in Color October 9, 1999
Lots of pictures and news on his plans for the upcoming year!
August 1999 - assorted gossip.
Again Karen has broken off with him. I have heard nothing else except he is very distraught.
Rumor has it that Chang Cheh (genius kung fu movie director for Shaw Brothers in the 70's and 80's) will be helping him direct his new Action/Martial Arts Comedy.
Gossip from the Internet April 6, 1999: here's a news update on Karen Mok vs. Stephen Chiau issue... karen apparently is now dating singer ritchie ren and has tried to break off her relationship with chiau after finding out he is dating someone else. Chiau however had refused to break up with Karen and Karen is now hiding in taiwan, doing promotions for her new album and avoiding Stephen Chiau.
Funny guy has the last laugh
China News, 02/26/99
From the Internet:
HK GossipI
Stephen Chiau Sing Chi has a black eye...
HK Gossip II
Stephen Chiau Chi Sing's students complain about becoming cheap labor
Hong Kong Box Office Totals for February 22 1999
http://www.coolala.com/enter/e002.2e.html
Film Title Acc. Taking(HK$) Days
1 KING OF COMEDY 21,407,585 10
Feb 16th 1999 Gung Hei Fat Choi!
The First Weekend of King of Comedy, Sing Jai has the #1 film!
Feb.13th 1999 click here for King of Comedy real player trailer!
January 28th 1999 -; the site for his upcoming Movie, The King of Comedy!
Be aware its all in chinese! a big5 reader will help.
And here's the poster for KOC...


November 16th 1998 -; My friend just got back from HK and told me Stephen was seen with Karen Mok in the front row of Sammi's concert.
October 10th 1998 -; While in Hong Kong I saw Sing Jai on TV. It seems he was drafted to be in a Chinese Opera... I did not get the whole gist of the thing but he seemed to be a guest star along with Chow Yun Fat. I was so stunned to see this I couldn't follow the interview the held with him after the clip. Not that my chinese is all that great to follow him anyhow. Anyone else who saw this in HK and has info, I'd appreciate hearing about it! I have pictures and will post them shortly.
August 17th 1998 -; Sing Jai was at Karen Mok's Concert in HK.
February 20, 1998 - PEOPLE
The Not-so-Lucky Guy
His new movie may be called The Lucky Guy, but Stephen Chiau Sing-chi's fortunes have been mixed. After years of trying, the Hong Kong star has once again been refused residency abroad. The Canadian Federal Court in Vancouver rejected his request for a judicial review after the immigration department denied his application. Why? They don't like his friends. And they don't mean the usual movie-set groupies. Citing "secret evidence," officials say Chiau is involved in organized crime. His lawyer denies that. "It is not fair. The decision is based on secret evidence he can't challenge." But being stuck in Hong Kong is not all that grim for Chiau. The fans at home have ignored the twists in his immigration tale. The 34-year-old remains one of the most popular actors around. During the traditionally lucrative Chinese New Year season, his film out-gunned Hong Kong movie icon Chow Yun-fat's The Replacement Killers at the territory's box office. Lucky rang up over $3 million while Killers bagged $2.4 million.
South China Morning Post:
If you want to read the whole thing, you can go to their web site and get it from there...
Click Here to Look for Articles in SCMP
Headline: Actor Chiau loses Canada abode bid 
      Byline : 
      Publication date (DDMMYY): 050298 
      Summary : Comic film star Steven Chiau Sing-chi lost his battle to emigrate to Canada.
       The Federal Court in Vancouver said secret evidence showed Chiau was involved in organised
        crime and a member of the Sun Yee On triad.
Headline: Film star evidence to stay secret 
      Byline : QUINTON CHAN in Vancouver
      Publication date (DDMMYY): 220198 
      Summary : Evidence allegedly proving film star Stephen Chiau Sing-chi was involved in
       organised crime would not be disclosed for national security reasons, Vancouver's 
       Federal Court has heard.  
     
South China Morning Post:
If you want to read the whole thing, you can go to their web site and get it from there...
Click Here to Look for Articles in SCMP
Headline: Comic's triad denial 
      Byline : 
      Publication date (DDMMYY): 281097     Word count : 53
      Summary : Comedian Stephen Chiau Sing-chi is expected to defend himself today against
      allegations that he is a triad member during a closed-door hearing in Vancouver. He is
      appealing against the Canadian Government's rejection of his application to immigrate.
      Former Hong Kong Canadian Commission officer ... 
      
Headline: Nothing funny about lawyers 
      Byline : Paul Fonoroff
      Publication date (DDMMYY): 150897     Word count : 577
      Summary : In the early 1990s Stephen Chiau Sing-chi, the king of Cantonese comedy,
      churned out an average of one picture a month. Since then his salary has soared and his
      output dwindled. The theory was that more time spent on each production would yield a
      corresponding increase in quality. The theory has ...  
       
Headline: Actor sued over film 'walkout' 
      Byline : CLIFF BUDDLE
      Publication date (DDMMYY): 080797     Word count : 342
      Summary : Comic actor Stephen Chiau Sing-chi has been hit with a writ for around $13
      million damages over allegations he walked out on a movie. 
       
Headline: Cooking up more comedy 
      Byline : Paul Fonoroff
      Publication date (DDMMYY): 030197     Word count : 643
      Summary : In the early 1990s, rarely a month went by without a new Stephen Chiau
      Sing-chi comedy. Twenty-five starring films between 1990 and 1992, and most of them box
      office hits. Since 1993, the pace has slackened considerably. The hope was that his
      stratospheric salary, combined with extra time ...  
       
Headline: Stephen Chiau's lines of defence 
      Byline : The Hong Kong actor is determined to clear his name. He puts his case to Winnie
      Publication date (DDMMYY): 240596     Word count : 1279
      Summary : Popular comedian Stephen Chiau Sing-chi is finding it very difficult to find
      anything to laugh about these days. What originally began as a simple immigration
      application has opened a Pandora's box of allegations and insinuations of organised crime
      affiliations and gangster activities.  
       
Headline: I'm not a triad, says film star 
      Byline : ALAN MERRIDEW in Vancouver and GLENN SCHLOSS
      Publication date (DDMMYY): 020596     Word count : 364
      Summary : Comic film star Stephen Chiau Sing-chi, 34, swears he is not a triad member,
      although Canada has twice rejected his applications to immigrate because of his alleged links
      with organised crime. 
       
 Headline: Film star appeals immigration ruling 
      Byline : 
      Publication date (DDMMYY): 010596     Word count : 80
      Summary : Comic film star Stephen Chiau Sing-chi has lodged an appeal in Vancouver's
      Federal Court against the rejection by the Canadian authorities of his application to
      immigrate. The application was dismissed on March 26 by Hong Kong Canadian
      Commission officer Jean-Paul Delisle.  
       
Headline: That sounds familiar 
      Byline : by Paul Fonoroff
      Publication date (DDMMYY): 010396     Word count : 445
      Summary : BEING a superstar does not necessarily translate into being a super-director.
      Though he has had considerable creative input in his past productions, Forbidden City Cop is
      the first film in which the territory's premiere comedian, Stephen Chiau Sing-chi, is credited
      as co-director (with Kuk ...  
       
Headline: Chiau's film brings the house down 
      Byline : Compiled by DENISE CHEUNG
      Publication date (DDMMYY): 060795     Word count : 169
      Summary : COMEDIAN Stephen Chiau Sing-chi stars in the black comedy Out of the
      Dark. Chiau plays a mentally ill patient who turns into a wizard when he conquers the
      restless soul of an old woman and unveils the hideous acts of two crooks who killed their
      mother.  
       
Headline: Making a monkey of Chiau 
      Byline : John Dykes
      Publication date (DDMMYY): 050295     Word count : 184
      Summary : SEE no, hear no, speak no mo lei tau. Hong Kong's comedy king Stephen
      Chiau Sing-chi underwent a startling transformation from funnyman to funny monkey in the
      making of his latest movie, A Chinese Odyssey - Part One: Pandora's Box. 
       
 Headline: Comedian Chiau loses ground on journey back to Earth 
      Byline : by Paul Fonoroff
      Publication date (DDMMYY): 270195     Word count : 750
      Summary : DURING the slow stretches in A Chinese Odyssey Part One, Pandora's Box -
      and there are many of them - one has more than ample time to ponder how such a promising
      idea could have turned into such a flimsy film. The team of director Jeff Lau Chen-wai and
      superstar comedian Steven Chiau Sing-chi ... 
       
Headline: Chiau's comic shot at Bond 
      Byline : by Paul Fonoroff
      Publication date (DDMMYY): 211094     Word count : 726
      Summary : CHIAU Sing-chi has been absent from the screen for over six months, the
      comedian's longest break since his ascent to superstardom five years ago. Whether or not
      From Beijing With Love was worth the wait is another matter. In the old days of the early
      90s, Chiau used to churn out an average of ... 
       
Headline: SEARCHING FOR MR RIGHT 
      Byline : Whether it's love affairs, the latest murder thriller, or revenge on
      Publication date (DDMMYY): 101093     Word count : 
      Summary : IN THE wake of her stormy love affair with comedy king Stephen Chiau
      Sing-chi, television and film actress Jacqueline Law is ''advertising'' for Mr Right: he has to
      be reliable, much older (more mature, surely?) than her, good-looking but not one to fool
      around, and he must be able to provide ...  
       
Headline: Movie star acquitted of speeding 
      Byline : 
      Publication date (DDMMYY): 220593     Word count : 
      Summary : FILM star Chiau Sing-chi was yesterday acquitted of driving at 105 km/h. 
       
Headline: An instinct for nonsense 
      Byline : FIGHT BACK TO SCHOOL III, with Stephen Chiau Sing-chi, Anita Mui
      Yim-fong,
      Publication date (DDMMYY): 310193     Word count : 
      Summary : IT'S time for Chiau Sing-chi to graduate. Two years ago, Fight Back to School
      not only broke box office records but also provided Chiau with an ideal role. 
       
From The Wolverine/ HK Database News Files:
Main | Gossip | Sing Jai's Talented Tongue | Links | Films | Gallery | Sing Jai Sounds
---
Designed & Maintained by: chowsingchifan
ICQ #7867585
Last Updated - March 3, 1999