Sing Jai Showing off...
Sing Jai is a talented man... and he advertises it as often as possible. sigh...
This is still under construction... I can only work on it for short periods or my head explodes...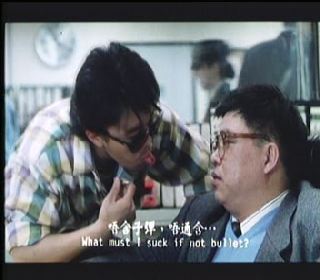 He showcases his nimble tongue in several movies:

Fight Back to School 3 - He licks the mole off the bottom of his chin

All's Well that Ends Well - He dunks his face into egg yolk and licks it off the very tip of his nose, frightening Leslie Cheung Kwok Wing... and then he shows off to Maggie Cheung...

Legend of the Dragon - Watch him clean the rice from his face when he's eating dinner with Yuen Wah and Liu Chia Ren.

All for the Winner - Keep watching the outtakes at the end... He even makes Uncle Tat laugh.

God Of Cookery - Such a cute student and watch that action when he mimics his rival in the 28th Annual Cook off!
The Lucky Guy - He waves it around through a hole in a paper bag and scares Eric Kott. Carryover joke from ...
Lawyer Lawyer - Pig tongue!!!
Curry and Pepper - He waggles it all over the place... Much to Cheung Hok Yau's amusement.
Sixty Million Dollar Man - He didn't need any special effects to run that tongue all over his face...
Tricky Brains - Some nice tongue twisting here. Andy Lau can't come close...
Sleazy Dizzy - Stephen shows some nice action during the car chase.
Fist of Fury 1991 - Play that flute Stephen.
All For The Winner - Wah! Parts of this will be videocaptured as they are so good. He moves that tongue at the speed of light.

More on the way!

Main | Gossip | Sing Jai's Talented Tongue | Links | Films | Gallery | Sing Jai Sounds
---
Designed & Maintained by: chowsingchifan
ICQ #7867585
Last Updated - July 15, 1999